ELEMENTS OF INNOVATION STRATEGY
In an era where traditional businesses around all industries are attacked by emerging technologies, where small market players (startups) can digitize offers with high user value, it is necessary that traditional companies become increasingly connected to the innovation ecosystem.
And this connection involves developing an innovation strategy outside of traditional molds. In the next topics, I will point out everything you need to know to put together a competitive innovation strategy for today.
1. Don't underestimate emerging players
There is a culture behind technological players a little different from traditional companies. While a traditional company aims for a profitable operation, startups receive investments to "burn cash" in exchange for user growth and product-market fit. They may even reach the end of an accounting year and say they have suffered losses, but if they show growth and market fit, it's all right!
The point is that traditional companies tend to believe that because they are more established, have more distribution or money, they cannot be bothered by startups or, at worst, can buy the startups that are disturbing and solve the problem.
Unfortunately, by the time companies realize that their business has been threatened, it's too late. Typically, this perception comes close to the point of collision, as shown in the figure below.
Traditional and digital models collide with each other when their curves intersect. The traditional has less return as its number of users grows. On the other hand, digital can continue to grow in scale, learning and increasing the number of users and engagement.
So if your innovation strategy doesn't include an engagement plan with the startup ecosystem, this is a red light for your company's future.
2. Have an Innovation Intelligence process
There are external factors that are causing the disruption that are usually outside the control of the company, but that need to be taken into account when putting together an innovation strategy.
Many companies focus on controlling internal variables they are already used to and fail to observe what external factors can change the game's rules.
Unfortunately, the false sense of security of controlling internal variables results in a limited vision of the future, making successful companies vulnerable to disruptions that were not on the radar.
Companies that have an intelligence process for innovation can have indicators of what is about to happen in their industries and prepare their companies for the future.
3. Have an Innovation Thesis
The innovation thesis is a document in which the company and its leaders establish and agree on the current scenario and what should be done concerning innovation.
It is impossible to build a well-structured innovation thesis without first having built the process of intelligence for innovation. Any step in innovation without an intelligence process will be uncoordinated and generate a waste of money and time.
The main points of an innovation thesis are:
Reflection on the company's current business model
Reflection on what is in decline
Market trends for horizons H1, H2, H3
Threats to horizons H1, H2, H3
How the company will use innovation to benefit from trends
A reflection on the previous points and where the company will keep its focus
What strategic objectives and business units will benefit
What human and capital resources are needed for the implementation
INNOVATION HORIZONS
Innovation horizons are a framework widely used for the management and balancing of the innovation portfolio of companies. They exist to improve activities that bring financial return today and engage the company with medium and long-term opportunities. With this, they make the company future-proof.
Understanding the "S" curve of innovation
Before we understand the horizons of innovation, we need to know the "S" curve concept as the life of a business.
In the S curve concept, as shown in the chart below, there are three periods. They are:
Research: too much investment and little progress.
Market Fit: period of accelerated growth.
Maturity: revenue and profit growth.
These periods are significantly correlated with the type of investment and investor/partner that the initiatives have.
Early-stage businesses, which are in the Research period, tend to focus more on Universities, Accelerators, Incubators, Research Laboratories, and Corporate Innovation Labs.
Businesses in the Market Fit phase have at their side Venture Capitalists, Corporate Venture Capitalists, Corporations with structured program of Open Innovation.
Finally, businesses in the Maturity phase tend to have investors such as private equity, corporate venture capital, and companies in the M&A phase.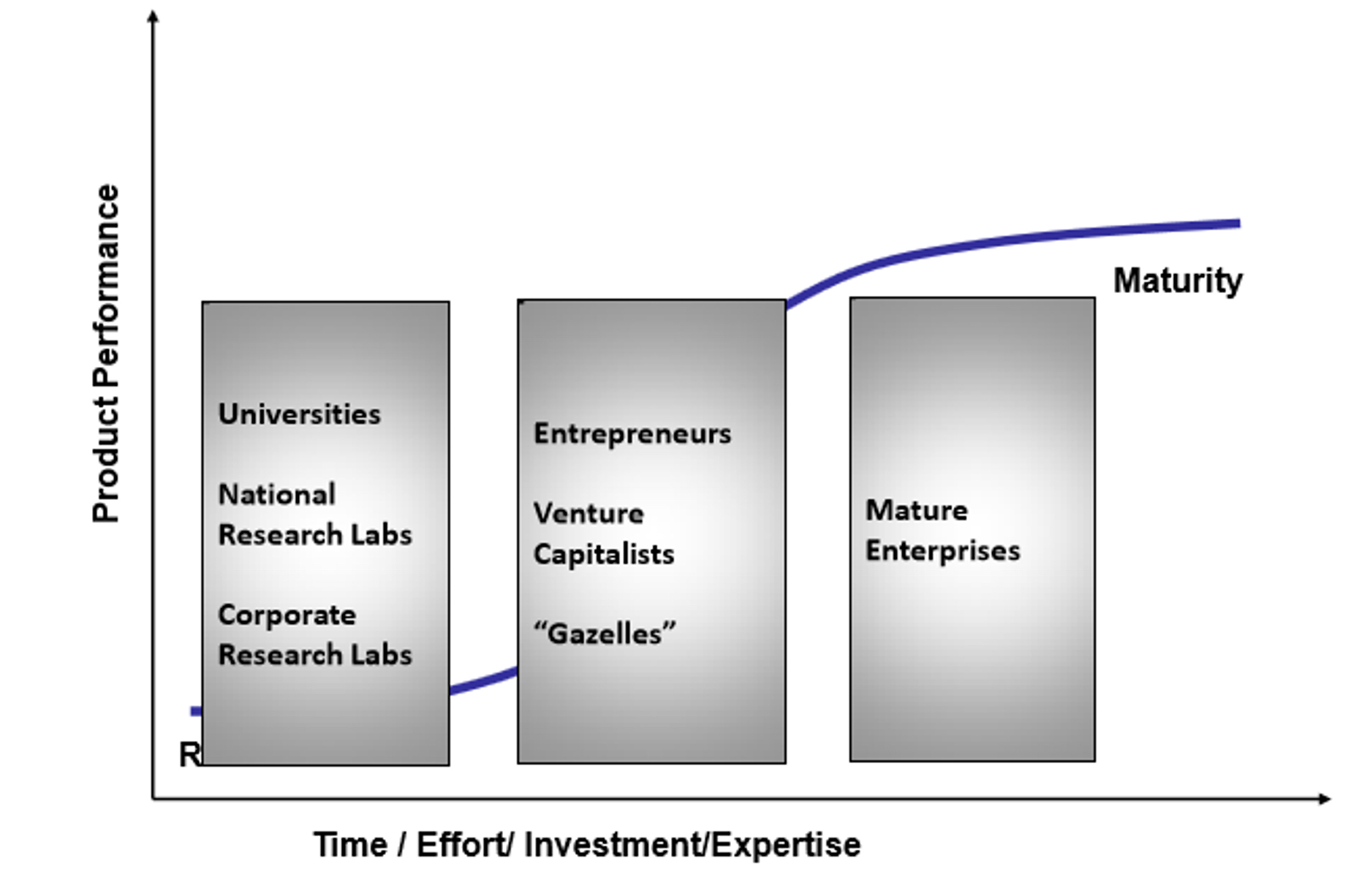 Why companies need to cultivate and engage with innovation
Established companies that have been growing for an extended period and keeping competitive are those capable of creating sources of revenue growth and profit.
These companies have sown the innovation chain since the research phase. It is at this initial stage that they engage with the disruption and cultivate relationships with startups, investing, hiring, accelerating, partnering, helping, becoming a client, making proofs of concept (PoCs).
All this occurs until they see an opportunity in maturity stage enough to synchronize innovation with their operation. In other words, the company that wants to be innovative needs to continuously nurture innovation initiatives that are in the early and middle stages to achieve results in the maturity phase.
The S curve in the technology industry
An interesting example for analyzing the S curve would be that of the technology industry itself. The image below shows the various cycles of innovation that the industry has gone through and the companies that have emerged in each period.
Understood the concept of the S curve, we can approach the horizons of innovation.
The three horizons of innovation
Innovation horizons are a way for the company to organize itself to achieve strategic objectives that impact three horizons or timelines.
Horizon 1: company core - Use technology to improve existing products for existing consumers.
Horizon 2: Adjacent - Create new lines of business for the company
Horizon 3: Transformational or Disruptive - Develop solutions for markets that do not yet exist or drastically change how the activity is done today.
The quadrant below translates this relationship well and should be used to manage the initiatives.
For the concept to be even clearer, I'll give some straightforward examples of H1, H2, and H3.
H1: You use a chatbot to serve existing consumers. Chatbot is something that optimizes one of your company's core activities for existing customers.
H2: You are a tractor manufacturer and realize that you can attach sensors to them. With this, you can sell your customers a predictive machine maintenance service. This is an incremental business for the company.
H3: There are several famous and beaten examples on the internet about H3, such as Kodak, Blockbuster, Netflix, Uber. Every time your company maps an initiative that changes the game's rules, that is, an authentic H3, you need to create a connection with it and NEVER underestimate it.
How to manage innovation horizons
McKinsey recommends that companies focus on 70% of h1 initiatives, 20% on H2, and 10% on H3. I agree that this may even be the case for most large companies. Still, I believe that every company and every business model has to define the weight it wants to give to each horizon. That's why it's so important to have an innovation thesis combined with intelligence for innovation.
Let's take Shell as an example. I believe that she should focus more than 10% of distribution initiatives on the electric car supply. After all, this novelty that changes the game rules for her and is not something simple to do, involves hardware, software, and many agreements with legislative bodies.
The way you manage Horizon 1 is different from how you manage Horizon 2, which is different from the way you manage Horizon 3. The challenge is to manage the three horizons simultaneously and engage the people needed in each of them. For H1, you need to have the engagement of business leaders. Here, the change is small and usually focused on productivity, and investments are small, usually initiatives that already have a specific development maturity.
For H2, the most important is to have corporate development supporting the initiatives and the CEO's participation endorsing the main discussions. The spending to test these initiatives is already moderate. And there is a moderate risk if the initiative fails.
H3 requires active participation of the CEO and C-level suit because here we are dealing with a potential disruption of the company, which will not be taken seriously if the C-levels are not engaged. Also, it is usually in H3 that spending is higher and not foreseen in its budget.
One of the main objectives of H3 is to make the company future-proof! This involves a powerful cultural aspect. You have to try to break your own business model, which is clearly another reason to engage the CEO. It is also necessary not to be reactive in the disruption, and the CEO needs to have an open mind.
For all this to happen, there must be an effort to bring H3 initiatives to H2. The company must transform immature initiatives into commercially viable products, even if they can break its own business model.
Finally, since most companies require a financial metric tied to innovation projects, there is a fairer metric for each phase:
H1 - ROIC (Return on Invested Capital)
H2 - NPV (Net Present Value)
H3 - Option Value
After all this, it is worth mentioning that innovation horizons are among the main frameworks used for corporate innovation with startups. And it is through these new players that traditional companies can accelerate their innovation process while reducing risk.
Schedule a Demo Today